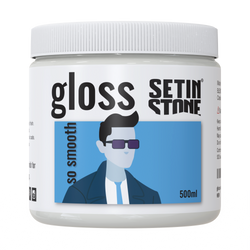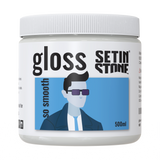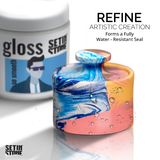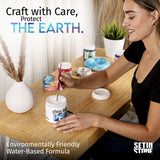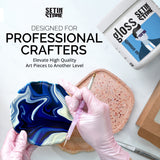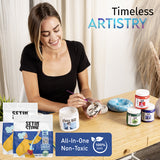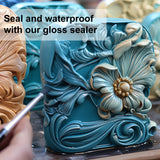 SETINSTONE | GLOSS Water Based Sealer for Eco Casting
SETINSTONE® gloss 
As a professional crafter, I am thrilled to announce the latest addition to our crafting arsenal- a water-based sealer that will revolutionize the way you work with SETINSTONE®, plaster, and cement crafts. Our sealer creates a waterproof and stain-resistant barrier that will protect your crafts from any liquid, stains and yellowing UV, while giving them a glossy shine that will make them truly stand out.
One of the things that sets our sealer apart is its high-performing compatibility with many brands of water-based casting products. Whether you're a beginner or a seasoned crafter, our sealer will work seamlessly with your materials, giving you the results you want every time.
We heard you and we know that there is a real need in the market for a sealer that can provide a durable, long-lasting gloss finish. That's why we are so excited to offer this gorgeous formula to our customers. Whether you're working on a small project or a large-scale creation, our sealer will ensure that your crafts remain in pristine condition for years to come.
To get the most out of our sealer, we recommend applying at least two coats, with the second coat applied once the first coat is dry. This will help to ensure an even application and maximum protection for your craft. When applying the sealer, use a high-quality brush to spread it evenly across the surface, and be sure to clean, dry, and remove any grease or oil from the surface beforehand.
In short, our water-based sealer is a game-changer for anyone who loves to work with SETINSTONE®, plaster, or cement crafts. With its waterproof, stain-resistant, and glossy finish, it will make your crafts shine like never before. So why wait? Try our sealer today and see the difference it can make for yourself!
Transparent quick-drying water based sealant

Non Toxic
Low odor
Low VOCs
UV resistant
Contains a special sun-blocking additive that helps to eliminate the yellowish tint caused by sun exposure.

Apply in thin layers with brush

Do not inhale.

Apply in thin layers with a brush.
Apply 2-3 thin layers with a brush.
Allow layer to dry in between additional coats.