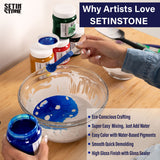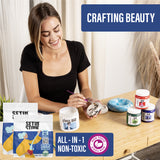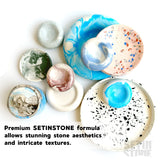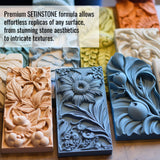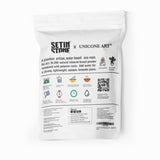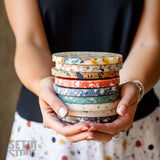 SETINSTONE Eco Casting Resin Water Based and Non Toxic
As a professional crafter, I am always on the lookout for innovative and eco-friendly materials that can help me create unique and durable pieces of art. That's why I'm thrilled to introduce you to SETINSTONE®, a versatile artisan, non-toxic, water-based eco resin that is revolutionizing the world of crafting.
SETINSTONE® is an all-in-one natural mineral-based powder and polymer resin that can be easily mixed with water to create a smooth, strong, lightweight, and opaque casting. Whether you want to make a bespoke sculpture, a decorative bowl, or a stunning piece of jewelry, SETINSTONE® has got you covered.
One of the best things about SETINSTONE® is its superior strength and durability compared to other one-part gypsum casting powders such as plaster of paris. You can trust SETINSTONE® to stand the test of time and retain its stunning marble or STONE-like appearance for years to come.
Not only is SETINSTONE® strong and durable, but it's also eco-friendly. As a water-based resin, it doesn't contain any toxic chemicals or harmful solvents, making it a safe and sustainable choice for crafting.
But what really sets SETINSTONE® apart is its versatility. With its ability to be cast into any shape or size, SETINSTONE® lets your imagination run wild. From intricate details to bold and dramatic designs, you can create anything your heart desires with this innovative material.
So if you're looking for a creative, durable, and eco-friendly way to take your crafting to the next level, look no further than SETINSTONE®.
The mix ratio of SETINSTONE® is 1 part water to 3 parts SETINSTONE® powder by weight.
Simply multiply your water weight amount by 3 to get the powder amount.
For best results, place the total amount of water to be used in a container. Then gradually pour the SETINSTONE while continuously mixing, until acquires a fluid and uniform consistency free of lumps.
Add our water-based pigments for a beautiful range of designs.
SETINSTONE® fully cured pieces are strong, can be sanded, painted, and sealed to be fully water resistant, use our SETINSTONE® gloss acrylic sealer for a gorgeous gloss finish.
Just add water!
SETINSTONE® has a work time of approximately 30 minutes
Demold in approximately 90 minutes or once completely cold and dry to the touch.
*Humidity and thickness of project will vary cure time.
Will reach final strength 24-48 hours
Add pigments for a gorgeous range of options.
Finished piece can be wet-sanded, once completely cured.
Seal for a waterproof finish with SETINSTONE® gloss