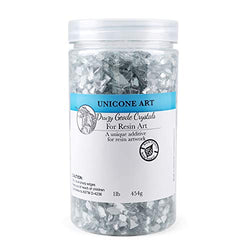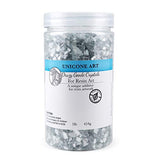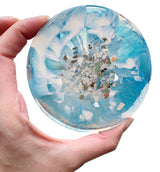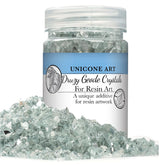 Druzy Geode Crushed Glass for Resin Art (1-Pound Jar)
FEATURES: This 1-pound jar provides ample faux crystals for many projects. they won't degrade, melt, or lose luster in your project over time. They are a perfect component for resin art creations.

HEAT RESISTANT: Geode crystals are heat resistant. You can use a torch or heat gun after you've added them to your piece and, they will not emit any smoke, fumes, or odor, making them the perfect addition to your resin art supplies.

PROVIDES TEXTURE: While the "crystals" provide shine to any work of art, they also add texture. The dimension and depth these craft crystals provide make them the perfect addition to your craft supplies.

PROVIDES SHINE: These faux crystals are mirror-backed, shiny pieces of glass—a perfect additive for resin artwork and more. This crushed glass for crafts will add super-lustrous, intense sparkle and shimmer.

ART SUPPLIES: Unicone Art produces high-quality art supplies that are made for artists, by artists. Use these "crystals" to add extra depth and dimension to your pour art, DIY geodes, canvas art, handmade jewelry, and more.