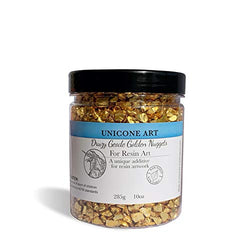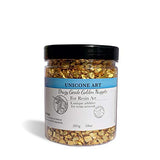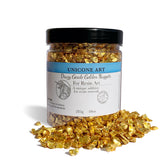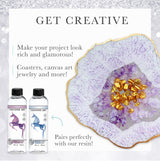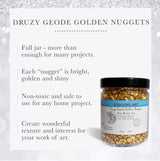 Druzy Geode Golden Nuggets
FEATURES: This large jar provides ample faux golden nuggets for many projects. they won't degrade, melt, or lose luster in your project over time. They are a perfect component for resin art creations.

HEAT RESISTANT: Geode nuggets are heat resistant, up to 390°F making them the perfect addition to your resin art supplies.

PROVIDES SHINE: While these "golden beauties" provide shine to any work of art, they also add texture. The dimension and depth these nuggets added to wet resin and create a rich looking masterpiece.

PROVIDES TEXTURE: These are a great alternative to metal flakes, they are heavier and will sink to the bottom of your resin. They have the perfect weight to stay exactly where they are placed and have the optimal size to not protrude over the cast resin layer.

ART SUPPLIES: Unicone Art produces high-quality art supplies that are made for artists, by artists. Use these "crystals" to add extra depth and dimension to your pour art, DIY geodes, canvas art, handmade jewelry, and more.